Mizuho Kawasaki, laboratory technologist extraordinaire, is teaching people to cook Japanese Bento Boxes in WPSU's World Kitchen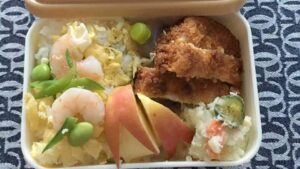 Learn to make your own delicious and beautiful Bento boxes. These compartmentalized meals can be intricate or very simple, and guest chef Mizuho Kawasaki will show us how easy it can be to make your own – from family picnics to your child's lunch box.
We will learn to make Pork Katsu, Japanese rice, Japanese potato salad, and some fun fruit combinations for dessert. You don't even need a real Bento Box since we will show you how to use simple things you have in your own kitchen to create your masterpiece.